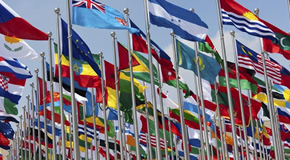 I recently facilitated a session for social sector practitioners on global trends for organizations engaging internationally, and some ideas for how they could incorporate them into their operations or programs in creative ways.  Here is some of what we discussed:
Tying to the Sustainable Development Goals (SDGs) – organizations can use the SDGs as a gateway to encourage their members to think and act more globally
Some examples:
* The International Coach Federation through its foundation has an initiative to 'advance social progress through coaching' by supporting organizations working on the SDGs.
* The International Federation of Library Associations has a publication to help local libraries make connections to the SDGs and Action 2030 Agenda.
Incorporating millennials and multi-generational dialogues – The millennial generation is now making their impact known not only in numbers but with the creation of many new organizations founded and/or run by youth. Forward-looking organizations and initiatives are increasingly recognizing that effective multi-generational dialogues can have many benefits.
Example:
*The American Association of University Women has a Younger Women's Task Force that bridges from university chapters to traditional chapters.
On-line communities – Many organizations are experimenting with online communities.  A few considerations were shared: use of platform that your target audience is on and is comfortable with; have a core active group and a number of moderators (including from different parts of the world) who will help to 'seed' the conversation and keep the group active; and be aware that the community may have cycles of activity and less activity.
Example: Knowledge Management for Development
Creative partnerships and multi-stakeholder collaborations – Complex challenges call for multi-sector partnerships. Organizations can expand their influence by reaching out to new partners.
Example: The American Academy of Pediatrics through its Global Development Alliance Helping Babies Survive