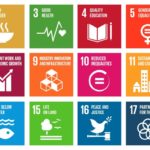 When I first started working on the concept of international engagement in the 1990's it was a relatively uncommon concept.  There were local, national and international organizations and they were each seen to have their own proscribed (geographic) areas of interests, and stakeholders.  The boundaries began to blur a little in the late 1990's and early 2000's with the growing popularity of the Internet and other trends, but it was social media and global agreements such as the Millennium Development Goals (succeeded by the Sustainable Development Goals (SDGs) or Global Goals last year) which helped pave the way for a much greater engagement.
For those that aren't familiar with the Sustainable Development Goals (or "Global Goals") world leaders agreed to them in September of 2015. The 17 goals, from ending poverty to climate change action, are a broad blueprint allowing ample opportunity for engagement.
As Elizabeth Stuart writes in US election shows why SDGs are so important "If policy makers, thinkers and campaigners are reaching for a response to the rejection of current political and economic models….using the SDGs as a way to frame their analysis and model new solutions would be a good starting point. Paradoxically, although the SDGs are global, they can similarly be a framework for rebuilding political structures from the local level up."
Like other documents and efforts with universal appeal (and media attention) the SDGs when understood and used effectively can also help local and national NGOs in many ways including:
Learning about how others around the world are tackling similar challenges.
Finding partners to forward their own work and increasing their impact.
Enhancing their opportunities to catch the attention of policy makers and funders who are following these broader global issues.
I am glad to see that introducing the SDGs to a wider audience is catching on – from a recent session at a national umbrella  Independent Sector in the US, to portals such as SDG insights that curates information about the SDGs that can be useful to NGOs looking to engage.
iEARN is an example of one international organization that is encouraging its members around the world to utilize the SDGs as a gateway to engaging internationally. Educators who are facilitating or participating in iEARN projects are encouraged to review the SDGs to see how their students participating in iEARN project activities can help in achieving one or more of the SDGs.
The SDG Philanthropy Platform has a very useful indicator wizard to show which SDGs relate to your work and some ideas for how you can track your impact.  Their language regarding the philanthropic community also applies to the broader civil society community: "…The implementation of the SDGs opens up new avenues. Now, more than ever before, being strategic…means forging partnerships and becoming a force for action in various multi-stakeholder coalitions under the SDG umbrella."
(And as an added bonus, you get to use the colorful, eye-catching Global Goals logo :)
How are you using the Sustainable Development Goals in your work?
Additional resources
Global Goals Reading List for students from UNA-USA