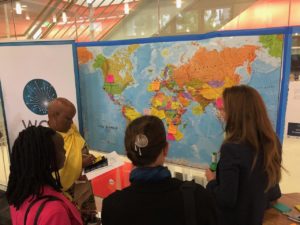 By Roopa Dhatt, Bonnie Koenig and Kelly Thompson
A couple of years ago Bonnie wrote a series of posts on how our concept of networking has changed in a more globally connected world.   We are continuing to see an increase in global networking and in the creation and expansion of new networks. Two new efforts provide interesting examples of how some of these new networks are being created and some of what is being learned.
Civil Society and Testing Change
The Civil Society and Testing Change project is a collaborative effort among a network of organizations and individuals interested in testing some operational changes to keep civil society/nonprofits organizations effective.  It strives to bring in people from different perspectives, sectors and networks who have a common goal of exploring and testing some new ideas.  It was started virtually and thus far the people involved in the project's steering group and working groups have not yet met each other in-person.
Here is some of the initial learning about creating and nurturing a new global network:
Bonding a new group virtually and online facilitation skills are different than our in-person knowledge and practices. The kind of bonding that takes place in-person can be a challenge to create virtually. New group 'bonding activities' (such as sharing personal information or icebreakers for the group to get to know each other) need to be streamlined. And without the benefit of being able to read some of the nonverbal communication among group participants, facilitators and attendees need to actively work at surfacing feedback that may happen more naturally in-person.  Having some people who already know each other (or 'of each other') and some who are good at facilitating new relationships (in addition to the person who has a more formal role of facilitator) can be very helpful.
Cross-generational dialogue (actually listening and adopting some of the ideas from a different perspective) is increasingly important especially with a creative and activist younger generation. When it comes to significant organizational and societal change, blending the lessons of 'veterans' with the enthusiasm and perspectives of younger generations can be a potent combination.
Our networks are smaller than we would like to think. We need to be intentional about reaching beyond our usual groups and bridge-building.  There are often many others working on common issues (who we may not be initially aware of) that we can learn from and collaborate with.
The importance of building communication into the process. Communication is always important to change processes, but especially when working with a wide-ranging group of stakeholders it is important to ensure that you build good communication systems into the process.  Keeping busy people regularly up to date, and flagging when you need them to take action can help them to engage more effectively with the project.
A group interested in putting more focus on women's role as leaders in global health began in  2015, reaching out to like-minded individuals through a series of informal and formal sessions held in conjunction with global health conferences they were attending in different parts of the world.  In the last two years through a volunteer structure they organized 25 dialogues around the world engaging approximately 1500 people. In only two years, those who associate with this new network now number close to 8,000 people in over 60 countries.
Here is some of the learning thus far about creating and nurturing a new global network:
Shifting the focus of advocacy from theory and processes to evidence based, goal oriented action results in greater impact and attracts more people. We use existing resources and focus our efforts in engagement, implementation, and follow-up. Most of our activities have an action component for individuals or their organizations. (i.e. Tools we use are not innovative in content, but in application they are targeted to the most influential actors in global health, i.e. gender equality checklist targeted toward event and conference organizers)
Invest in the team and community. We spent the first few months of our organization identifying, articulating and hardwiring our shared team values. Through emphasizing co-creation as an approach to our work, our team values go beyond being aspirational and are lived experiences. We nurture such a culture through team-building and as a result of this approach as our scope of work grows, so does our team with shared values. One of our shared values is community and we try to provide a space for women to talk about issues and find solutions. We are continually redefining the idea of community and how we interact with people.
Communication. We try to focus on using different platforms for different goals and tasks and be willing to adapt (e.g. if a project management platform is not being used by team members, there is no reason to force its use). Using virtual platforms, especially Whatsapp groups, Twitter and Facebook allows us to stay connected, build interpersonal relationships and have our communication be engaging, creative and a shared experience. For example, a photo of an infamous #allmale World Bank and WHO roundtable meeting on global health inspired active dialogue internally through 100+ Whatsapp exchanges, but also a Twitter campaign to spread the word. Twitter has allowed people to engage as they are able and interested.  Often new members of the community will say that they 'followed [our] work for some time on Twitter' before approaching us, and they then feel like they have some ownership and a stake in the work.  Whatsapp has been great for social connections, quick feedback and accessibility (as it requires minimal connectivity).   We try to complement in-person working group meetings with meaningful virtual dialogue.
Valuing all actors as potential contributors and partners. Partnerships are crucial to breaking down silos, increasing reach in an efficient and effective manner and amplifying efforts. Our steep growth and engagement has been a result of tapping into existing infrastructures, networks and communities. We deliberately engage with diverse groups, young people, leaders at all levels; and use a multi-stakeholder approach –with specific outreach to policy makers, academia and the private sector. (i.e. Our top accomplishments are a direct result of partners from all these areas).
There are unavoidable pitfalls in partnerships often rooted in existing power dynamics and privilege structures. The existing influence of patriarchal norms can challenge collaboration. Some of the challenges we have faced are brand visibility; credit for our work; patronizing engagement; putting forward visible leaders in lieu of diverse voices based on perceived undervaluing of lesser known names; and being unpaid and unrecognized for our work. Using strategies to address these challenges requires foresight, good communication and partnership alignment.
Partnerships require a commitment from all involved. Successful partnership building is based on a shared vision, alignment in values, and common goals. At Women in Global Health, we invest in getting to know our partners, this especially includes the people we work with by cultivating relationships, building trust and pooling resources—it makes working together much easier.
Roopa Dhatt – is a co-founder and Executive Director of Women in Global Health. She is a physician by training and a patient advocate by principle, striving for greater health and well-being for all people through working in global health. Her global experience includes serving as the President of the largest student organization in the world, with over 120+ country members and representing one million medical student members, the International Federation of Medical Students' Associations.
Bonnie Koenig –  is the Principal of Going International with over 30 years working with civil society organizations on developing their international engagement and strengthening their organizational operations.  This work has spanned over 40 countries.  She is the Civil Society & Testing Change project founder and coordinator.
Kelly Thompson – is the Programming and Gender Director of Women in Global Health.  She is also a physician by training who believes that development can only be achieved through gender equality and access to health, particularly for women, young girls and key populations.She has worked as a collaborator and/or consultant with UNAIDS, ILO, WHO, and PMNCH on adolescent health, HIV and sexual and reproductive health and rights (SRHR), youth engagement and youth-led accountability.