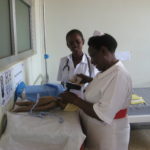 Although I am not a global health specialist, as a strategist, I have worked with many medical groups in the global health arena over the past 25 years. Some of this work has included supporting the creation of the the Helping Babies Survive Global Development Alliance, Osteopathic International Alliance and the work of the Child Health Task Force.
As part of this work I have followed Global Health Trends. These trends have always provided lessons and learning that go far beyond the 'boundaries' of global health (and those interested in it), but today's focus on the global pandemic may provide an opportunity to share some of those interconnected themes to a wider audience.
People centered work – no matter what the focus of our work is, ultimately it must come down to making people's lives better. Although it is sometimes easy to lose this focus if we may be a step or two removed from direct service, global health keeps this front and center. It is a good focus for us all to remember.
Interconnectedness – one's health does not just depend on absence of illness, but on many other factors including livelihood and a livable income, clean water and air, and a peaceful environment (absence of war) among others. This clear interconnectedness of many often siloed 'issue areas' to one's health has encouraged more holistic approaches to global health challenges.
Collaboration – with the interconnectedness noted above, effective solutions come from reaching beyond traditional networks to identify a wide range of partners. Some of the oldest and most effective multi-stakeholder collaborations come from the global health field. We can all more learn more from them. Here is a good example of scientists working together to deal with the current pandemic despite political obstacles. And here is a good example of WHO reaching out to creative people to help with spreading good practices to address the current pandemic.
Focus on equity – this has been a focus in the global health community for many years now. If it was not already evident, it should now be, that without a focus on health (and other types of ) equity, pandemics respect no boundaries, income level or privilege and not to focus on inequities will affect us all more directly than it may have seemed in the past.
Leadership – There are good leadership lessons from those who are standing out during the current crisis, including Dr. Tedros of WHO and Dr. Fauci in the US.
Learning from wherever it may come – Years ago the Clinton Administration had a program called Lessons without Borders which shared lessons learned by USAID in other parts of the world that could be used in the US. Unfortunately this program died at the end of that administration and it is now even hard to find links that describe it. But within the health field, this idea has often still been followed. One great example is the partnership just announced between the US State of Massachusetts and Partners in Health to use Partner in Health's experience fighting pandemics around the world domestically within the US to fight covid-19.