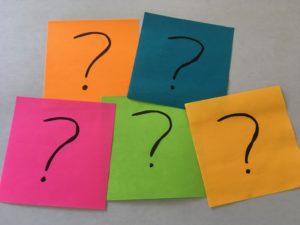 Powerful questions are often the key to finding our way forward. Identifying the questions that will work for your group, keeping them front and center on a regular basis, and adapting them as you need to, can help to keep focus when you are pulled in many competing directions. Collectively identifying your questions during a team session can be a great way of clarifying how your broader vision and values will play out on a day to day basis.
This post is a collection of some of the questions I have developed with organizations I have worked with, as well as those that have been raised in various other forums I have recently been part of.  Hopefully some of these examples will serve as useful prompts for finding the questions that will work for your efforts.
A large, diverse global multi-stakeholder global health coalition I work with met to focus in on what they can do together. After two days of considering their vision, these were the questions they agreed to keep in front of them:
How is what we are doing together different from what is being done elsewhere?
What is our value added?
How we are involving key stakeholders?
How are we communicating with key stakeholders?
How will we be influencing the broader issues?
A multi-stakeholder group funded to work together for five years, meeting together after their first year, set out these questions:
Where can we adapt our own individual efforts around shared values?
Who needs to be part of the decision-making?
Does our purpose remain clear?
For the next year they kept these key questions at the top of their agenda for each meeting.
Leading teams through disruptive times:
The following questions are based on an externally facilitated process: Kya Khyal Hai? (What do you think?) organized by Chambal Media, a feminist media enterprise in India. "The idea was to listen to and understand team members' ideas of themselves in the organisation. We did this over a series of workshops with the rural and urban teams, through play and open-ended discussions."
What does relationship building in a diverse organization look like?
Whose realities take precedence in setting organizational goals and culture?
What does taking care of ourselves look like? What does accountability to the organization look like?
How does the team see this balance working? How can this balance also be a shared responsibility?
Diversity and Inclusion:
These questions come from the work of Leila Billing, So You've Hired a Diversity and Inclusion Expert? Here Are Six Ways You Could Be Undermining Them
Does your diversity and inclusion focal point have legitimacy among minoritized groups in your organization?
In what ways might you be setting them up to fail rather than succeed?
To what extent are you asking staff working on diversity to focus more on public relations than systemic change?
How will you support your diversity officer to act in the face of resistance?
What does institutional transformation mean to you — and how far are you willing to go?
Changes needed to organizations/networks (especially larger or more established groups)
As civil society and its ecosystem are changing (needs, power structures, expectations), and trust in traditionally organized parts of civil society fall and more fluid networks take its place, organizations are faced with new realities. These questions were posed by Danny Sriskandarajah, executive director of Oxfam UK in a recent webinar.
Are we doing enough to 'speak truth to power' and secure precious space needed to protect civil society? 
How do we adapt as our environment changes? What will be our value added in years to come? 
Are we making the most of our influence (that we may have from being a known brand; institutional strength and/or global presence) to shift discussions, power and resources, and provide stability, infrastructure and institutional memory? 
Are we doing enough to evolve our internal structure and systems to be more globally balanced?
Are we helping or hindering the operations and resilience of others in our network? Are we investing in institutional capacity of our partners?
What question(s) have your teams found helpful?