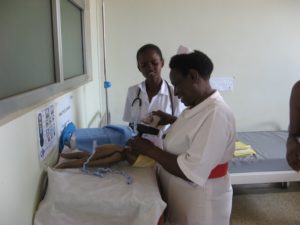 The Helping Babies Breathe  (HBB) program, launched as a global collaboration in 2010 had as its first partners the American Academy of Pediatrics, the Laerdal Medical Company of Norway,  the U.S. Agency for International Development's  (USAID)  Newborn and Maternal Health program, Save the Children, and the U.S. National Institute of Child Health and Development (NICHD).  It now encompasses numerous additional partners, working in over 80 countries.
Recently I visited three centers in Uganda (in the Kampala area) with staff from Save the Children –Uganda.  All three of these facilities are also testing the Augmented Infant Resuscitator (AIR) which is being tested in the US (Boston) and Uganda (Kampala). The AIR came from the goal of using basic technology to make learning HBB techniques even easier.  The AIR addition was co-created by Dr. Data Santorino of Uganda, an HBB master trainer.  In Uganda, Dr. Santorino coordinates closely with Save the Children on this study.
All three centers we visited had practice equipment and corners for the resident midwives to practice HBB techniques.  In one center it was a 'mobile corner' that was set up as the two midwives felt they had time to practice.  Time to practice was an issue in all three centers, although the ones that had the smallest staff felt they were so stretched in working with the women who come to them, it was extremely hard to prioritize practice time.
Midwives are given opportunities to come to HBB trainings conducted by Save the Children and Ministry of Health staff.  Those midwives who aren't able to come (especially from small or under-staffed clinics) are then trained within the clinic by those that did receive the more formal training.  The practice corners, and continued outreach and visits by Save the Children staff, are designed to support this practice.  For the AIR test, the midwives are encouraged to keep a book tracking their practice time and this is checked by connecting their AIR device to a computer when a staff member visits.
Teaching the original HBB techniques for helping to prevent birth asphyxiation in the first moments of a baby's life has evolved in different ways in different places, often based on how it has integrated into the local of Ministry of Health's programs.  In Uganda they are working on integrating HBB plus (HBB and essential neonatal care – ENC) into the Ministry of Health's Basic Emergency Obstetric Care (BEOC) program.
The midwives we visited were all very pleased with how being trained in HBB techniques has helped them.  Their comments included:
·      Builds confidence in my skills.
·      Mothers also have more confidence in us.
·      Have a better idea of when to take quick action and how much ventilation to use.
·      Birth deaths have gone down.
Specifically about using the AIR addition they noted:
·      I don't have to keep bagging [providing ventilation] so intensely when I receive the AIR feedback.
·      It gives you a good sense of how you are doing.
·      It can help you to self-learn, practice without a teacher, and still get feedback.
·      The feedback provides an incentive to practice more.
Having been involved in the original design of the HBB program, these visits were a good reminder of how important it is to see how the programs we design are being implemented locally, and incorporate feedback into design revisions. It also underscored the importance of continuing efforts at communication among practitioners involved in similar efforts, in order to share lessons learned.