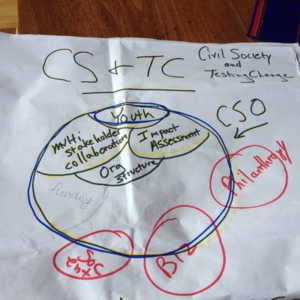 In a previous blog post I wrote about the beginnings of the Civil Society and Testing Change (CS&TC) project. This post shares our experiences last month with our first themed roundtable in New York City exploring the concept of better engaging youth in decision-making, or pushing the paradigm from engagement to integration.
The workshop brought together representatives of existing and newer youth founded and led organizations and those from the philanthropic community working in this area. We looked at some of what has already been learned and what are some of the ideas we need to keep in mind going forward. These included:
Changing the dialogue – We need to shift the dialogue away from being locked into age parameters, to a larger goal of integrating youth perspectives. Although we may need to set some parameters around the definition of youth (effective efforts can include those along the broad age range of 8-35), this should be a variable and nimble parameter that can incorporate the concepts of youth perspectives more than hard and fast age limits.
Need for holistic approaches – Our conversations about youth engagement/integration inevitably took us to a discussion of a broader range of issues. If we improve the existing civil society 'ecosystem' we will help strengthen the possibilities that youth will want to be engaged with it. We need to acknowledge that the larger sector is not working for youth and needs changes, including challenging ourselves and our own organizations to go outside our comfort zones.
Changing our paradigms is a practice – It is easy for all of us to fall back into old patterns without the structures, support groups and in some cases key facilitators to continue to keep us on track. Without these our changes tend to be incremental, not significant enough to lead to different outcomes and increased impact.
The discussion was very useful to help inform the global working group that will further explore these issues in very practical ways and develop some ideas that can be directly tested by the lead organization. It verified that on many of the organizational change issues that the project will be focusing on, there needs to be a larger connection and sharing of those working on similar issues that may be unknown to each other. Using the CS&TC model, the working group will share their learnings with those also interested in the issue and be open to their ideas. As a first step in this process a resource list we have begun can be found here.