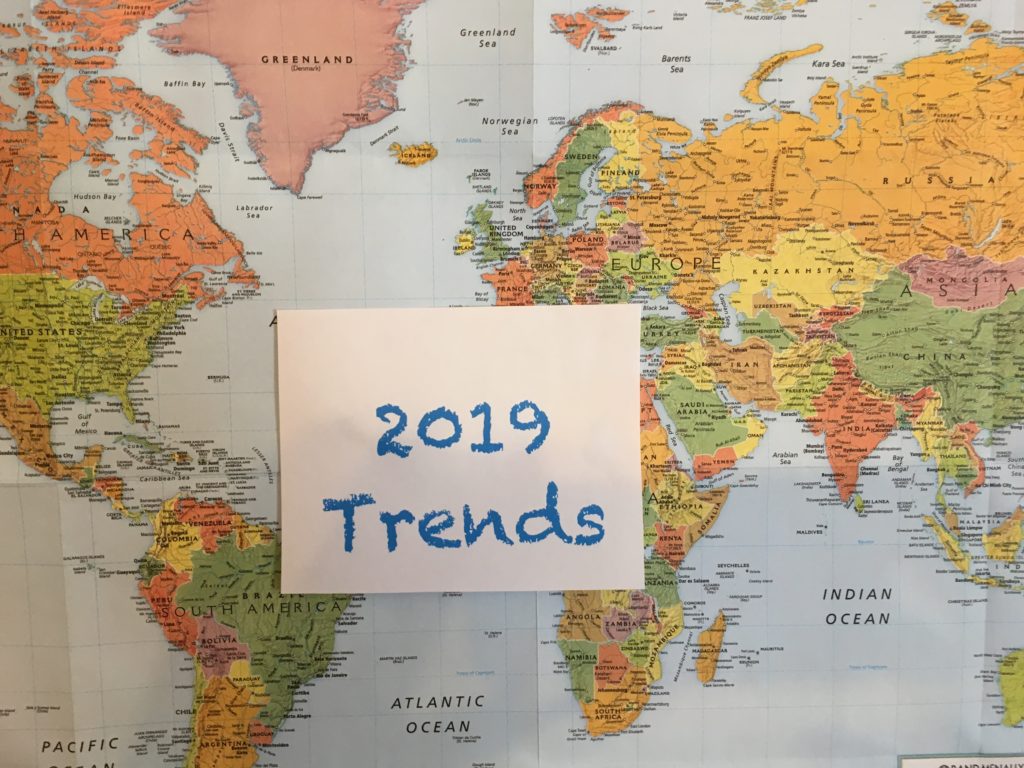 As we move into a new year, there have been a number of pieces discussing trends we should be aware of. Here are some of the trends I find most interesting:
Multiple generations in the work force: In 2019, Generation Z – people born in or after 1997 or 2001 (there are varying parameters being used) – will overtake millennials as the most populous generation in the world, according to a data analysis by Bloomberg. Growing up with smartphones and social media, Gen Z as a whole is a tech-savvy cohort whose rapid rise, along with the increasingly digital nature of the economy, is expected to change the employment landscape. We now have five generations in the work place – from those born before 1945 and retiring later, to those born after 1997 and just entering the workplace. Some thoughts on effective multi-generational dialogue and a little humor.
Data Management: After the implementation of Europe's General Data Protection Regulation (GDPR) and various privacy breach scandals of personal data, privacy and ethics issues, "Do No Digital Harm" will take on increasing importance. While we have increasing opportunities to gather important data, developing and implementing a framework for responsibly handling data should be an important organizational priority.
Leadership skills needed: There are numerous predictions as to how the skill sets we need through disruptive times are changing, with a focus on "soft skills" including oral communication, people management, time management, team building and mentoring. "I think you're going to see more leaders looking for leadership development or leadership guidance on how to be more collaborative, how to spur innovation, how to teach people how to fail and how to innovate," notes Carla Harris of Morgan Stanley financial services.
Diversity and inclusion: Diversification of work forces will increase as organizations strive to become more relevant to their members, customers, beneficiaries and stakeholders.  The emphasis will turn from focus in one area, to a greater integration of diversity and inclusion goals throughout the organization.  In some cases, this will include developing creative approaches.  The Association Forum's WE (Welcoming Environment) hinitiative is a good example of this.
Collaborative responses to big entities: The role of networks and groups of organizations to respond to online suppliers and other big market players will also increase.  We are starting to see small groups band together to "stand up to the giants. It might be through buying groups, marketplaces, associations, or movements such as 'buy local'…   says entrepreneur Naomi Simson, CEO of the Big Red Group in Australia, where Amazon launched with fanfare just a year ago.
Virtual meetings: The trend in meeting virtually, although not entirely replacing in-person meetings, will continue to grow as an option.  From smaller meetings via platforms like Zoom or WebEx to larger meetings via platforms like VFairs the technology will get better and (hopefully :) ) we will become more comfortable with using them.
Disruption will continue: from a 'divided' government in the US, to the consequences of Brexit in the UK, to Yellow Vest protest in France, and changes in government all over the world, 2019 will continue to be a year of disruption.  It could also potentially lead to reclaiming consensus, collaboration and shared values rather than polarizing ones (see efforts like More in Common) but in any case, we will need to stay nimble to ride the waves and find opportunities to forward our goals.
Hoping that you successfully 'ride the waves' and that 2019 is a productive year for you and your organization.
You can read about other trends here:
50 Big Ideas for 2019: What to watch in the year ahead, Isabelle Roughol, Senior editor-atl-arge LinkedIn
Five Diversity and Inclusion Trends we can expect in 2019, Forbes
Six Aid Policy Priorities to Watch in 2019