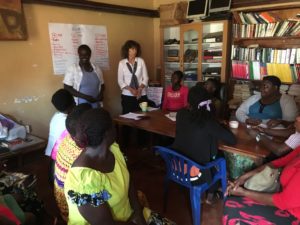 Bonnie Koenig of Going International works with  organizations along the spectrum of international engagement. With 30 years of experience working internationally, she brings customized support to multicultural and multinational groups expanding their international engagement. Sample services and previous client work include:
Organizational Development – Is your organization at a key juncture in its organizational history? Going International can help you to think through key stages of strategic organizational development, building on examples and models from other organizations worldwide. Clients include ActionAid International ActionAid International which revised its global governance structure and the Global Business Coalition on HIV-AIDS, TB and Malaria Global Business Coalition as it expanded its international reach.
Strategic planning – Does your organization operate internationally or does your Board or staff believe an international component to your programs should be developed or expanded, but would benefit from additional focus on where to begin? What factors should be considered? Going International can help you to ensure your planning is considering both the big picture and how to meet concrete goals. Strategic Planning clients have included the Affordable Housing Institute Affordable Housing Institute and Goodwill International Goodwill International 
Coaching/Advising – Going International's Bonnie Koenig's coaching expertise supports senior staff members and volunteer leadership on their journey through various implementation phases. Bonnie's combined knowledge of strategic planning (how to design effective and practical goals) combined with in-depth knowledge of how organizations actually operate, will ensure a strategy that meets your organization's needs. Bonnie has advised the Osteopathic International Alliance Osteopathic International Alliance as its Board and staff created and nurtured a new organization.
Program development – Would your organization benefit from a new or expanded international program? Going International will help you develop your international program ideas. The American Academy of Pediatrics, for example, worked with Bonnie to design and implement its Helping Babies Breathe program Helping Babies Survive
Counsel/research – Is there a particular globalization issue such as how to structure your membership, how to better represent your international membership or how to internationalize your Board, for where you might benefit from some support? Going International can provide counsel and research, including models and lessons from other organizations, to help you make these decisions. Organizations that have called on Going International to conduct primary research and analysis include the Institute for Internal Auditors IIA Global as it looked to better integrate its network of affiliates and the International Coach Federation as it looked to enhance its presence in new geographic areas.
Group Facilitation – Bonnie provides facilitation for strategy retreats, workshops, on and off-line meetings. She specializes in working with multicultural and multinational groups. For example, Bonnie was a facilitator for the Global Child Health Task Force, Ashoka's Changemaker Week and facilitates and manages the Civil Society and Testing Change project.
Training – Could your leadership or staff benefit from increased global awareness? Are there ways you might incorporate international trends into your day-to-day operations? Going International can provide you with customized training to fit your needs.
Or contact us to customize a program for your organization!