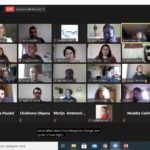 Recently I had the opportunity to co-create, host and facilitate the annual workshop of Accountable Now.   We used many of the approaches that we have developed through the Testing Change project as the farming for the workshop.  The approaches we used included:
Paradigm not just incremental change.
Circular (not linear) planning – plan, test, learn and adapt, repeat.
Change needs personal and organizational accountability and structure.
The broad theme of the workshop was rebuilding as we go through this disruptive pandemic period, and specifically to focus on inclusion; equity and power shifting; and resilience.
The slides we created for the …